ATTENTION
This tutorial is no longer updated. Please refer to the following link for the International/ English version at https://csonline2.net/download/cso2-english
HOW TO PLAY COUNTER-STRIKE ONLINE 2 TAIWAN
STEP 1
Download the standalone CSO2 Standalone client (Taiwan), and right-click on 新絕對射擊2online.exe > Extract Files/ Here (using 7Zip, WinRAR or other archive) to extract the contents. Do not run the file directly; it will not work.
STEP 2
Download the Radmin VPN (Taiwan version) and install it. After installation, run Radmin VPN, select "Join Network" and copy the values for the Network Name and Password as shown below.
Username: 絕對射擊2online
Password: 123321 (might change, check their Discord for updates)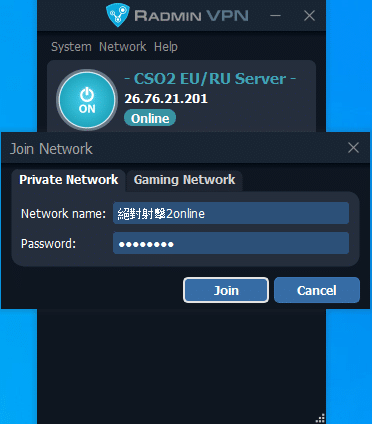 IMPORTANT: Make sure that Radmin VPN is not blocked by your computer/ laptop antivirus and firewall.
STEP 3
Once you are connected (this is very important because the webpage will not load if Radmin VPN is not connected), click here to register an account.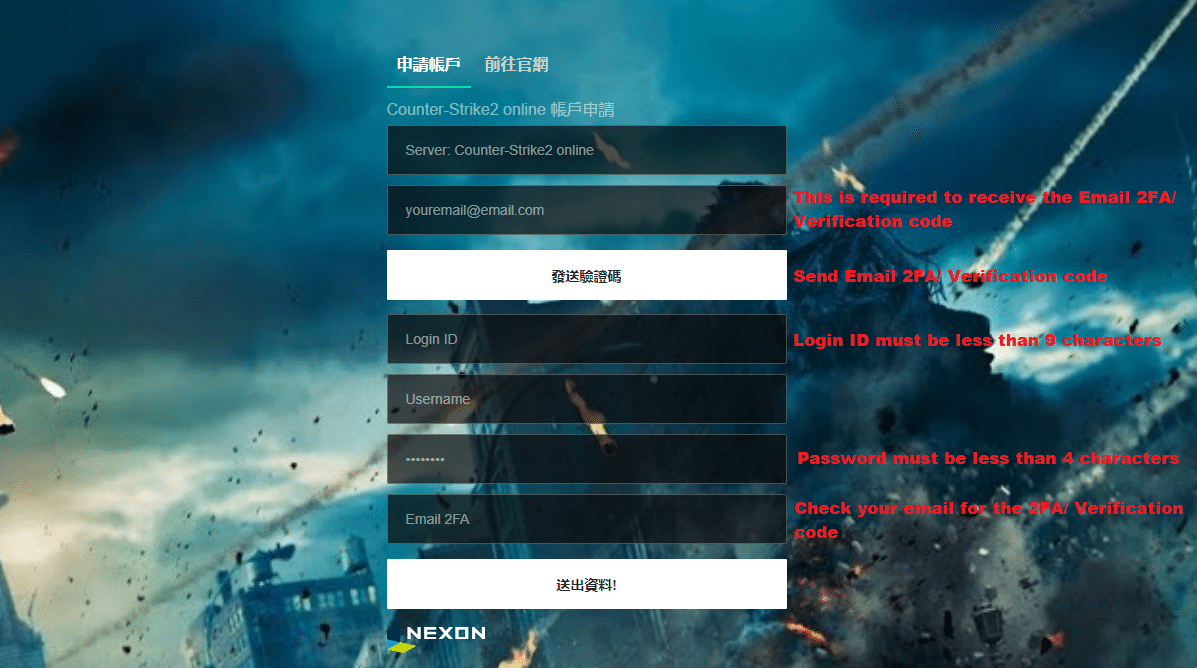 Take note that during account creation:
Use a valid email to receive the email/ 2FA verification code.
Login ID must be less than 9 characters, and password must be less than 4 characters respectively or the game will crash. If this happens, you must create a new account.
STEP 4
For the game to run, it is recommended to setup or install the Traditional Chinese language display. 
After completing the above, navigate to the BIN folder where the game was extracted, and run 絕對射擊2online.bat. 
When the command prompt appears, hit "Enter" on your keyboard and Counter-Strike Online 2 should run.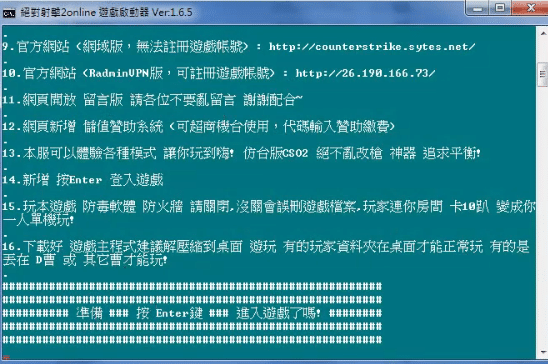 To access the list of available in-game command prompts, refer to this page (displayed in Traditional Chinese).
You are ready to play! Check out the User Interface to know more about Counter-Strike Online 2.