ATTENTION
This page is under construction. Contents will be updated from time to time.
NOTE: If you are not hosting any server, skip to the 'Setting Up Counter-Strike Online 2 Client' tutorial.
Credits to Ochii for the re-compilation.
SETTING UP THE MASTER SERVER
STEP 1
Download Node 11 and install it with the default settings.
STEP 2
Download the latest version of the master server, and extract the contents to the C: directory (e.g. C:\Server). This is highly recommended or else the installation might not work.
STEP 3
Search for Node.js command prompt (not Node.js) and run it. Change the location of the server to the directory from step 2, and run the commands in the following order:
cd C:\Server
npm install –only=production
Once successful, you will see the following result below; "Server is now started listening at your local IP address".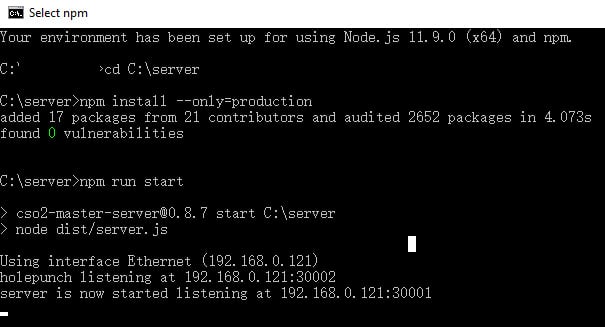 Good job, your own local server is now running. Time to setup the CSO2 client.
SETTING UP COUNTER-STRIKE ONLINE 2 CLIENT
STEP 1
Download the CSO2 Standalone client under Installation > Obtaining CSO2 and extract it.
STEP 2
Download the latest version of the CSO2 launcher and extract the contents to the game directory Bin folder (e.g. C:\Counter-Strike Online 2\Bin)
To change the language to Chinese (台灣繁體), download the patch and extract the files to the Bin folder too.
Your game directory should look like this: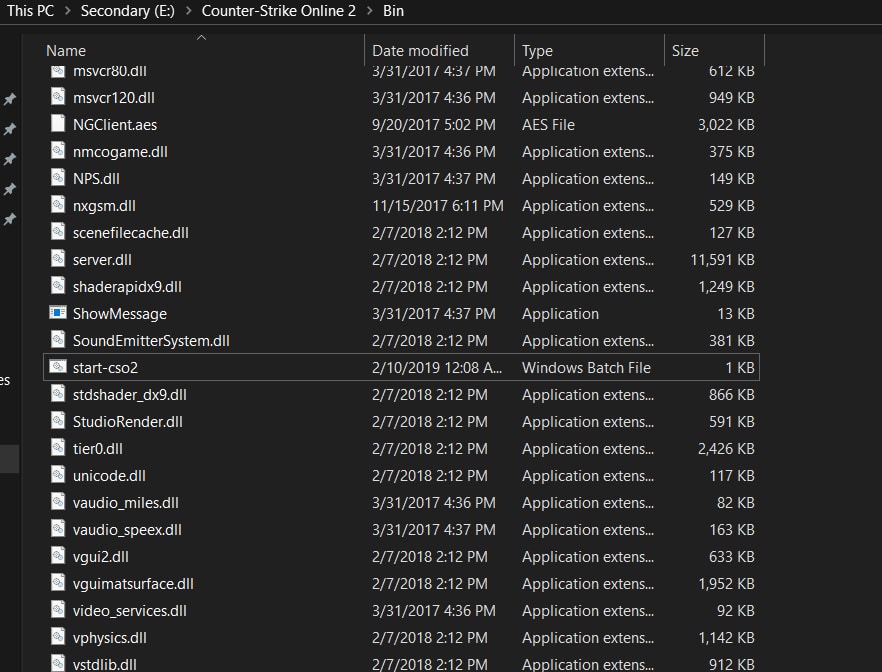 STEP 3
Run start-cso2.bat, and enter your local system IP address (192.168.0.121 without the port) from Setting Up The Master Server > Step 3. 
To join user-hosted servers, replace your local system IP address with theirs. For this case, we will access a Malaysian server: 101.99.68.49.

STEP 4
Once CSO2 fully launches, enter any random user ID and password (both must be 4 characters maximum or the game will crash).
Follow the images below, and you are ready to play! If you're a newcomer, check out the User Interface. To join the list of active servers, click here.