The VIP membership is a premium-only lounge in Counter-Strike Online 2.
This benefit is available to players that have made a
donation
to the main server host. Membership durations vary from temporary to permanent, depending on the amount donated.
Once the membership feature is unlocked, the player's VIP progress begins with a tiered experience bar, of up to a maximum of 6 levels or tiers. Just like normal account leveling, VIP experience points are gained from playing and completing game modes.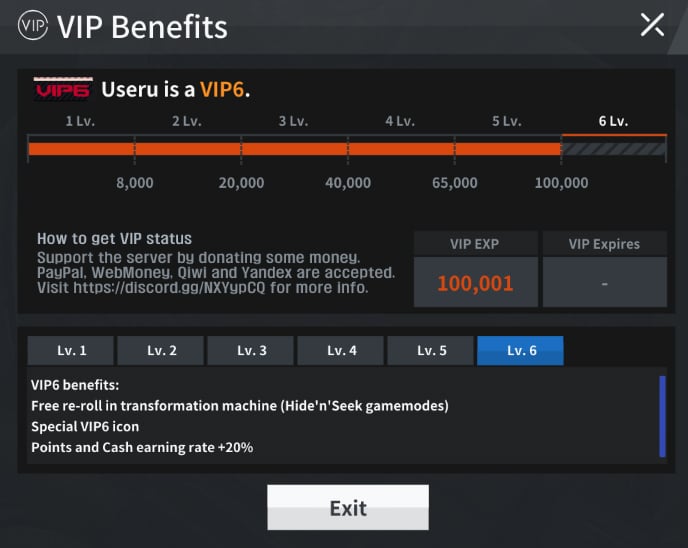 VIP members are identified by a [VIP] level insignia beside their username; [VIP 6] UserU as an example.
Upon attaining higher levels, the system unlocks additional benefits in addition to existing ones. More details on the VIP perks are listed in the table below, however they might differ across different versions.
Priority to enter crowded channels
Additional prop selection in Hide 'n seek mode
Golden Eagle Fortune Box (x1)
Golden Eagle Fortune Box (x2)
VIP Golden Token (x1)
Green Weapon Box (x1)
Golden Eagle Fortune Box (x3)
VIP Golden Token (x2)
Glowing Green Weapon Box (x1)
Golden Eagle Fortune Box (x5)
Discounts on combination*
Discounts on weapon unlocks*
PROGRESS
MEMBERSHIP PROGRESS
Keep track on your VIP levelling as you play. Higher levels in turn unlock more benefit for your character.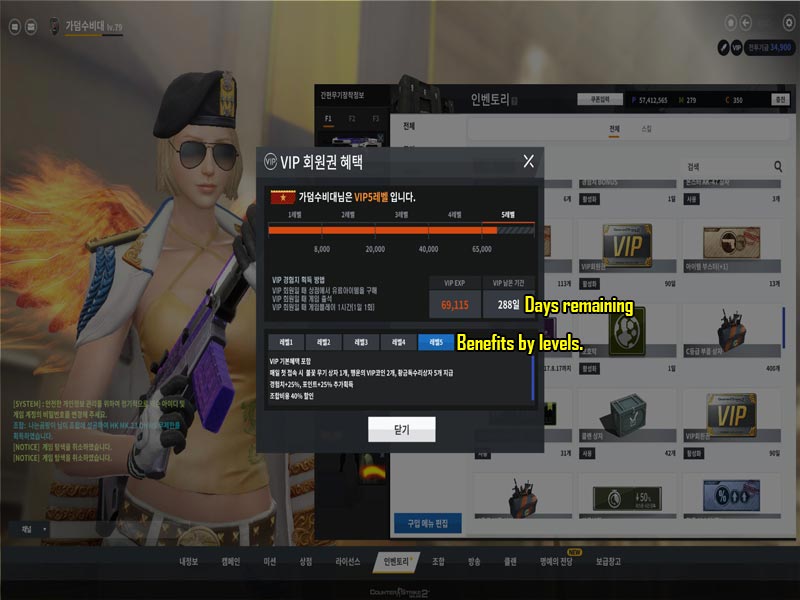 The best thing is that, all perks and levels are saved even if the membership were to expire. Just renew it and pick up where you left off!
REWARDS
DISCOUNTS
BACKGROUNDS